Building With Yaysay
Lightspeed leads Yaysay's $10.3M Series Seed to build a personalized, online, off-price channel for consumers of fashion globally.
The global fashion industry has a dirty secret.
In 2018, apparel brands around the world produced 150 billion garments, roughly 20 pieces for every man, woman, and child on Earth. Yet, 30% of these garments were never sold. The fashion industry massively overproduces, to the tune of 12%, or $200B+, of its $1.7 trillion in global volume. The environmental impact of overproduction is massive: over 92 million tons of garments ending up each year in landfills or incinerators. That's like driving a garbage truck full of clothing off a cliff every second!
Overproduction does not happen by accident or incompetence. Unfortunately, it's built into the business model of fashion. Global fashion supply chains are long and mostly disconnected from end-user demand. So brands must purchase many months ahead of demand signals. Buffers are necessarily built into delivery lead times, and fashion trends are notoriously difficult to predict. It's often the case that, by the time new items arrive in a store, they are already off trend and out of date. Apparel brands must constantly play catch up and, as such, systemically overprovision inventory to make sure they have something relevant on the shelves at the time of purchase.
The off-price channel rose to prominence over the last few decades, starting in the US, to address the cash flow issues associated with overproduction. Today it moves $450B of retail volume globally. With a combined enterprise value of over $150B, off-price retailers like TJ Maxx (NYSE:TJX), Ross Stores (NASDAQ:ROST), and Burlington Stores (NYSE:BURL) use their significant retail presence to purchase excess inventory from brands at 40-60% discounts to wholesale prices. They turn inventory 3-6x faster than typical retailers, driving best-in-class operating margins through their stores. Off-price retailers are stunningly good businesses and have more "winner take all" dynamics than any other category of retail.
Yet, despite their size and consolidated power in the retail ecosystem, TJX, ROST, and BURL have not been able to create a meaningful online presence. Off-price is, indeed, the largest component of commerce that remains offline (<1% penetration). The reason is that brands prefer to liquidate inventory "in secret." The conventional wisdom in the apparel industry is that discounted merchandise, when presented alongside new, can destroy pricing power and brand equity. No brand wants its off-priced inventory to be "a click away." Brands instead sell off-price offline, where it's harder for customers to do price comparisons to full price merchandise.
Major changes in this dynamic, however, are on the rise, and form a strong "why now?" for a platform shift:
A new long-tail of mid-market, digitally native brands are more comfortable discounting products to drive new customer adoption, especially since they don't have access to the biggest liquidation channels like TJX or ROST. Shopify alone has nearly 2M live merchants, and the largest category of Shopify Plus merchants is apparel (26%).
Regulatory and privacy changes (e.g. GDPR, ATT) have made CAC spike in typical online channels. Brands are consequently more open than ever to try new online acquisition strategies and are increasingly turning to emerging advertising channels other than Google and Meta.
Recent advances in machine learning driven personalization enable a highly customized feed per user, or what my Lightspeed partner Mike Mignano calls recommendation media. Consumers are accustomed to these personalized, vertical feeds from TikTok, Instagram Reels, YouTube Shorts, and Snapchat Stories. In addition, these advances present opportunities to automate previously manual, and time-consuming processes of processing, listing, and recommending items.
Growth in brands' owned e-commerce capabilities enable lower minimum order quantities and better service-level agreements with respect to shipping times on 3rd party platforms. In the "flash sale" boom of 2009-2012, brands struggled to support drop shipping, which required platforms like Gilt Group and Rue La La to execute large inventory buys. We no longer believe this supply chain setup is desirable or necessary.
Economic uncertainty is causing consumers to seek out discount opportunities in areas like apparel. Off-price is an anti-cyclical and recession resilient category.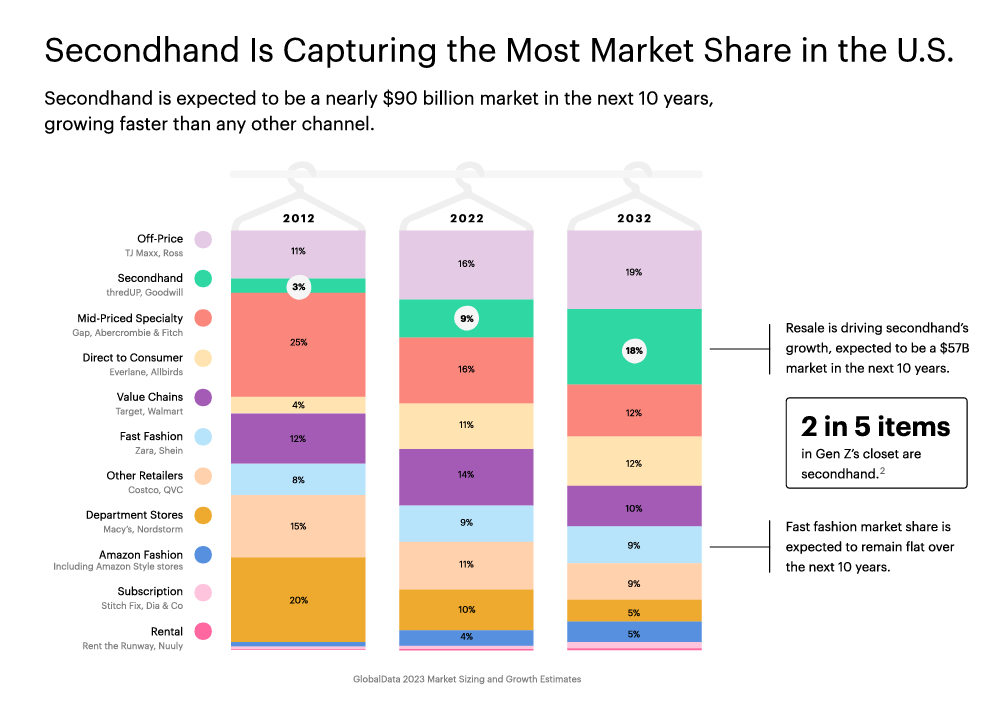 We also see proof points in the rise of online resale, which has demonstrated over the last 10 years that it's possible to sell discounted merchandise to consumers at scale, online, and to increase brand loyalty as a result. Platforms like Vinted (P2P resale leader in Europe) and Archive (emerging circular economy leader in US), both Lightspeed portfolio companies, will drive resale to nearly 20% of the global apparel market by 2032, according to ThredUP's recent resale report. Gen Z is accelerating the resale trend, with 40% of their closets filled with secondhand goods. Off-price offers many of the same economic and environmental benefits and should be roughly similar size in opportunity to resale over the next decade. But that requires a new platform to enable e-commerce transactions in off-price and solve some of the legacy issues in this digital channel.
Today, we're excited to announce Lightspeed's investment in Yaysay, which is building a personalized, feed-based shopping experience for discovering off-priced products. The company is launching its beta today (sign up for the waitlist here!). We are genuinely excited for shoppers everywhere to experience the fun of its truly distinctive e-comm experience.
The Yaysay founding team brings together a rare and complementary set of valuable skills and experiences. CEO Lindsay Ferstandig joined Stitch Fix (NASDAQ:SFIX, former Lightspeed portfolio company) as the Director of Marketing when the business had $7M of revenues and grew with the company through its IPO to cross $2B+ in revenues. We've known Lindsay for over 6 years and have been waiting a long time for the right opportunity to partner. Executive Chairman Philip Krim previously co-founded and served as CEO of Casper (formerly NYSE:CSPR), which grew to $410M in trailing revenues in its first 5 years and created the now pervasive "mattress in a box" category. CTO Gabe Flateman served as the CTO of both CSPR and at-home healthcare leader Tomorrow Health, and Chief Product Officer JD Maresco co-founded and led product and operations at the popular urban safety app Citizen. This founding team is joined by alumni of Gilt Groupe, Goop, Wayfair (NYSE:W), Rent The Runway (NASDAQ:RENT), Grailed, and other leading e-commerce and tech companies.
Lightspeed is delighted to lead Yaysay's $10.3M seed round, alongside co-investors from A-Star Partners, Shrug Capital, Afore Capital, and more, and I (Alex) am excited to join the board on behalf of the firm. Yaysay is also hiring for a number of foundational roles, including a Head of Finance. Please reach out if you're interested, or know anyone who is!
Authors