Meet the 2024 Game Changers
Lightspeed and GamesBeat shine a light on the 25 most innovative gaming startups
For more than 50 years, video games have profoundly shaped consumer behavior and acted as a catalyst for significant technological innovation. As an ever-increasing time of our lives is spent in immersive virtual worlds, gaming is expected to continue its pivotal role in how we play, work, and connect.
But often, true innovation happens at the edges. The most daring companies are not the industry giants—they're the startups that are advancing the next stages of technology, and by extension, bringing to life previously impossible user experiences.
That's why Lightspeed has partnered with GamesBeat to honor this new breed of gaming companies. In August, we asked the gaming and venture communities to nominate the best startups across five key categories:
Game studios,
Gaming platforms (e.g., UGC & social),
Interactive technology (incl. AI & 3D),
Extended reality (AR/VR/MR), and
Blockchain & Web3.
All of the entrants had to have been in business no more than five years and have no more than 50 full-time employees. In addition to vision and execution, we also sought to highlight companies that honored principles of diversity, equity, inclusion, and sustainability.
Selecting winners—everything but an easy task
We received an overwhelming amount of quality entries. Between Lightspeed investors and GamesBeat editors,  we narrowed the list of entrants to an even 100. We then submitted the nominees to a star panel of judges composed of C-level gaming executives and operators with senior leadership experience across Activision Blizzard, Amazon, Animoca, ByteDance, DeepMind, Disney, Electronic Arts, Epic Games, Goldman Sachs, Google, Kabam, Krafton, McKinsey, Meta, Microsoft, Niantic, Oculus, Riot Games, Roblox, Stanford University, Take-Two Interactive, Tencent, TikTok, Unity, Valve, Xbox, YouTube Gaming, Zynga, and others.
Judges then voted on each candidate (with ~10 votes per startup), and we took the average scores across all judges for each company, sorted the list, and arrived at our inaugural 25 Game Changers!
And now, on to the winners…
Best Interactive Technology: Modulate AI
The ability to voice chat with other players in real time adds excitement and intensity to the gaming experience, but it can also lead to a toxic experience. Modulate's ToxMod tool uses AI to moderate and remove toxic language in real time. The software is so sophisticated it can tell the difference between an exuberant "F— yeah!" and an abusive "F— you!"—and do it in nearly 20 languages.
That's a key reason why the young company—notably named one of Time Magazines' 100 most influential companies in 2022—is already powering voice chat moderation for Microsoft, RecRoom, and Riot Games, and why our judges chose it as the hands-down winner for Best Interactive Tech.
Best Game Studio: Gardens
Gardens* earned a near-perfect score from our panel of judges, and it's easy to see why. The studio creates lush shapeshifting worlds that blend role-playing fantasy adventure with social gameplay. The Gardens founders' previously created games—which include Sky: Children of the Light, Journey, and What Remains of Edith Finch— stand out thanks to their distinctive visual style and oftentimes novel cooperative play that promotes memorable moments shared with friends and strangers.
While we were blown away by the games' technical innovations, our panel was equally impressed by the company's commitment to sustainable practices, equitable pay, work-life balance, and diversity. At Lightspeed, we believe that gaming is the ultimate online social experience—where creativity, skill, and collaboration combine to produce joy. In the hands of studios like Gardens, the future of social gaming is indeed bright.
Best Gaming Platform: Astrocade
Named for Midway's classic 1970s video game system, Astrocade is both a salute to the history of gaming and a harbinger of its future. The platform's innovative use of generative AI allows anyone to become a game designer simply by issuing text prompts. Astrocade translates natural language descriptions into interactive worlds, automating the generation of art, animation and visual effects, music and sound, story and interactive characters, and even custom gameplay mechanics.
Though Astrocade is still in its infancy, Astrocade has attracted attention (and funding) from gaming and business luminaries such as Nvidia Ventures, Roblox founder David Baszucki, Tencent president Martin Lau, and many more. Living at the intersection of gaming, AI, and the creator economy, Astrocade is poised to have a huge impact on the industry for years to come.
Best Extended Reality: StatusPro
For sports games, authenticity is everything. And nothing is more authentic than the feeling of being on the field alongside your favorite players. Founded by former college and NFL athletes, StatusPro is the ultimate extended reality (XR) sports experience. It's so realistic that the company's core technology is used by professional teams to train coaches and players.
StatusPro's NFL Pro Era is both the first XR sports simulation licensed by the NFL and the fastest selling XR sports title on the Meta Quest platform. The upcoming NFL Pro Era II will add multiplayer features, allowing virtual ballers to compete against others across the world. We believe augmented and virtual reality will play a significant role in the evolution of player experiences, with sports simulations being a leading driver of adoption.
Best Blockchain & Web3 Technology: Horizon
Horizon is both a maker of games and a builder of foundational Web3 infrastructure. Creator of Skyweaver, one of the first free-to-play blockchain trading card games, the company also built Sequence, an all-in-one development platform that makes it easy to build Web3 games, wallets, marketplaces, and much more within the Ethereum blockchain.
With Sequence, Horizon's co-founders and team have created a tool that could change how Web3 games and apps are developed. The ability to create a non-custodial, multi-chain smart wallet in two clicks is truly a game changer. It's no surprise that the Canadian-based company was named one of the World Economic Forum's Technology Pioneers of 2022.
The Inaugural Game Changers
Even in a challenging economic climate, exceptional founders continue to create exceptional companies. By creating this list, we hope to shine a light on tomorrow's leaders in gaming—the same companies driving the next evolution of our shared digital experience.
With that, we're thrilled to announce the additional 20 winners and honor them on stage at GamesBeat Next Summit tonight followed by a reception at our San Francisco office:
Last but not least, we'd like to wholeheartedly thank all the companies that submitted entries, as well our esteemed panel of judges, who represent the best of the best of the gaming community. We couldn't have done it without you.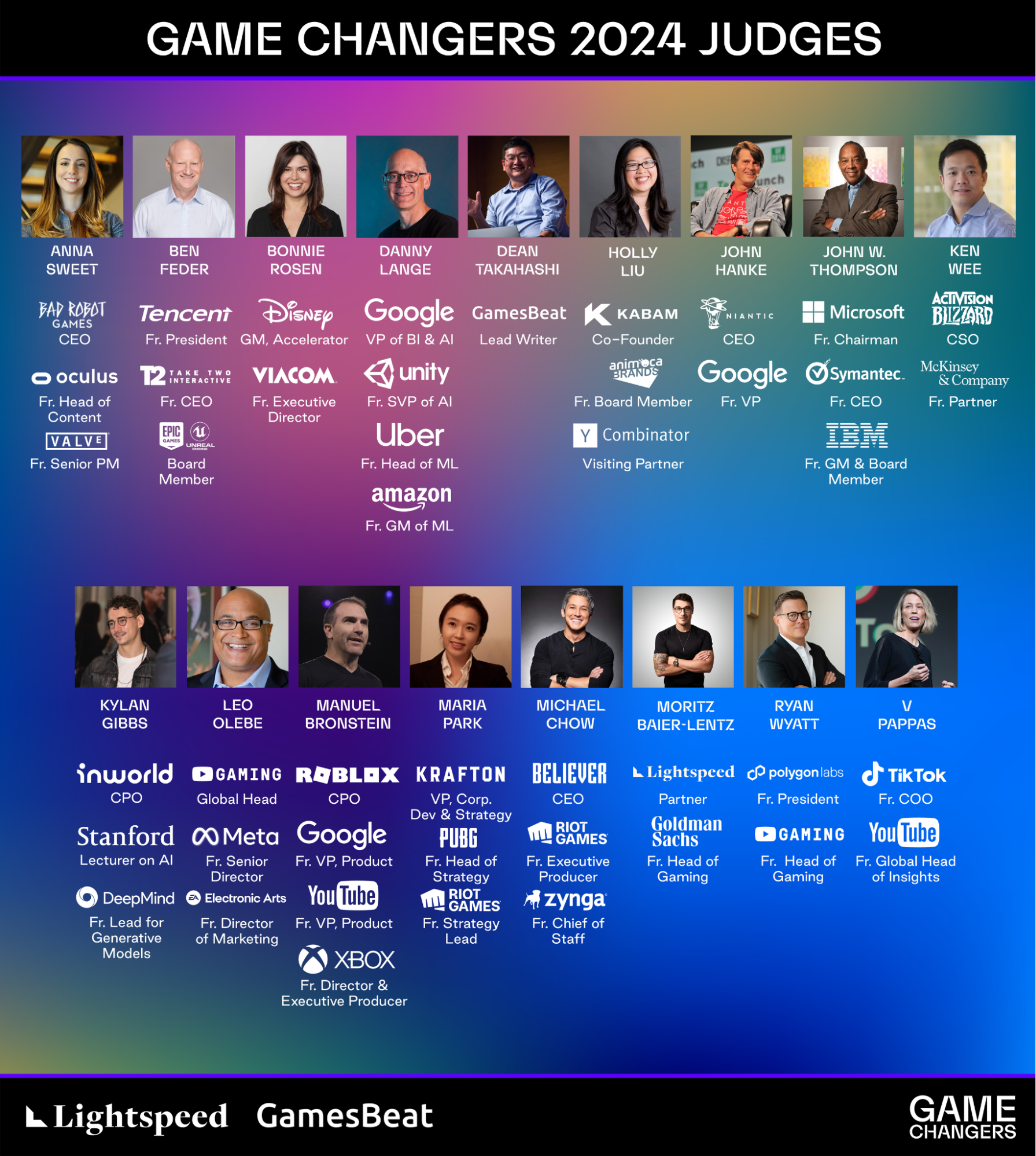 Anna Sweet, Chief Executive Officer of Bad Robot Games
Ben Feder, Managing Partner of Tirta Ventures
Bonnie Rosen, General Manager of Disney Accelerator
Danny Lange, Vice President of BI & AI at Google
Dean Takahashi, Lead Writer of GamesBeat
Holly Liu, Co-Founder of Kabam
John Hanke, Chief Executive Officer of Niantic
John W. Thompson, Fr. Chairman of Microsoft
Ken Wee, Chief Strategy Officer of Activision Blizzard
Kylan Gibbs, Chief Product Officer of Inworld AI
Leo Olebe, Global Head of Gaming at YouTube
Manuel Bronstein, Chief Product Officer of Roblox
Maria Park, Vice President of Corporate Development at Krafton
Michael Chow, Chief Executive Officer of The Believer Company
Moritz Baier-Lentz, Partner & Head of Gaming at Lightspeed
Ryan Wyatt, Fr. President of Polygon Labs
V Pappas, Fr. Chief Operating Officer of TikTok
*Lightspeed portfolio company
Authors