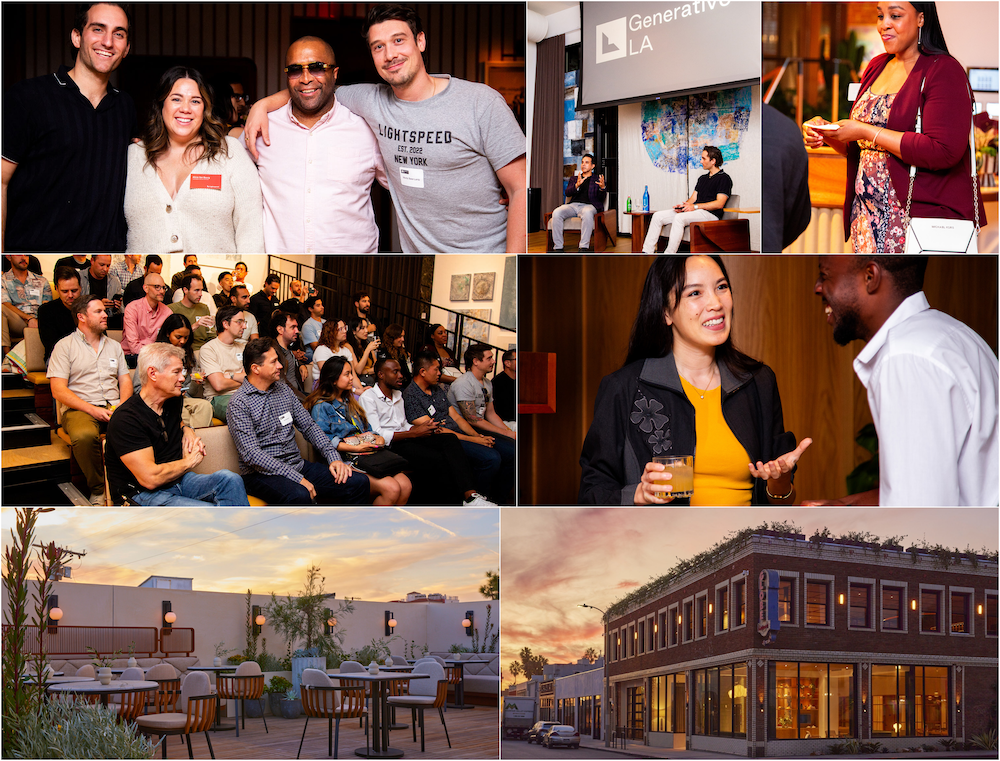 Lightspeed recently hosted the latest in its Generative AI series in Los Angeles, a fireside chat with Ahmad Khan, Head of AI/ML Strategy at Snowflake, the cloud-computing based data cloud company. Lightspeed has been investing in AI for over a decade, and launched the Generative series of meetups to bring together founders, builders, and investors working in the generative AI space to trade ideas and learn from each other.
Get notified here about future Generative events in the US and Europe, and listen to our new Generative Now podcast.
Khan spoke with Lightspeed partner Faraz Fatemi, who focuses on investments in consumer platforms, and co-hosted the gathering with Moritz Baier-Lentz, who heads the firm's gaming initiatives.
During the discussion, Khan highlighted five areas in AI where he sees opportunities for entrepreneurs:
Capitalize on leveraging "unstructured" data
Khan estimated that more than 80 percent of most companies' data is "unstructured," including material such as word documents, images, and audio/video files. However, most companies are doing very little with this information, meaning that they're leveraging less than 20 percent of their available data when making business decisions. Placing this unstructured data next to a large language model—effectively creating a chatbot—can help users interpret and analyze vast amounts of information that's currently being underutilized. There's a lot of potential in creating models tailored to the specific industries these companies are part of.
Privacy and security
Khan emphasized a growing concern among companies that their data will be used to train models that can be used by other companies, including competitors. As a result, companies often settle on inferior products that offer better security—creating a market for more secure products. For instance, even though Llama 2 is not the highest-performing large language model available, customers still choose it in lieu of models they have less control over, such as Chat GPT. Many companies' advantages are in the uniqueness of their data, so they're keen to avoid a situation where that data somehow ends up on the public Internet.
Gain an advantage by creating a superior user experience
How can startups compete against bigger competitors' scale? Khan suggested focusing on creating pleasant user experiences—for example, by creating appealing User Interfaces. This is the approach Snowflake has taken. Since the company can't really compete with cloud providers like Amazon Web Services—especially since much of their own services are built on top of it—they've focused on creating a superior user experience that justifies their higher price tag.
Focus on verticals
Khan suggested that another way for Davids to best Goliaths is by focusing less on general purpose applications and more on specific verticals such as manufacturing, finance, health care, or entertainment. "Learn what enterprises in your vertical are looking for," he advised, and then service those needs. For example, even though Google will likely develop a medical large language model, it likely won't go particularly in-depth—providing smaller companies an opportunity to build a model that does.
There's a growing need for data attribution.
At one point in the evening, the conversation turned to the possibility of new models that track copyrighted material and allow the original creators of the material to be compensated, thus creating an incentive for those creators to develop more material for models. Khan cited several cases where companies can't use open-source models for various legal reasons, including a movie studio that didn't want to use open-source models for image generation. Instead, the studio used a model trained on data from Getty Images that was licensed and paid for. Going forward, there will be a growing market for similar models using attributable datasets.